Veterinarian Recommended,
Pet Approved
NuVet Plus® provides a synergistic formula of antioxidants, amino acids, vitamins, minerals, and more to optimize the health and development of puppies and young growing dogs.
Supports the puppies immature immune System for future disease resistance,
Provides nutrients required for optimal growth,
Helps fortify Bone Structure,
Aids in digestion,
Contributes to healthy skin and coat.
6 reasons




for your puppy to start NuVet Plus®

1

Synergistic formula includes antioxidants, amino acids, vitamins, minerals, & more!

2

Produced in a registered FDA (human- grade) manufacturing facility following GMP standards.

3

Natural, human grade ingredients. No artificial flavorings.

4

Contains real chicken liver that is paddled dried using a patented process to preserve its Omega Fatty Acids.

5

Never heat treated – cold processed, which retains the rich nutrients found in each ingredient.

6

Veterinarian recommended and pet owner approved since 1997.
Love Means


Providing everything your pet needs
for optimal health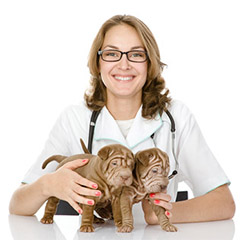 Vet recommended, NuVet Labs has designed a precise combination of human-grade, natural ingredients to help fight disease at the source, by combating the ravages of free radicals and stimulating immune system function.

Start your pet on the path to optimal health today with NuVet Plus! Your satisfaction is GUARANTEED*.

Or call 800-474-7044 ID Code: 75477